The Southern Omo Valley Lip Plate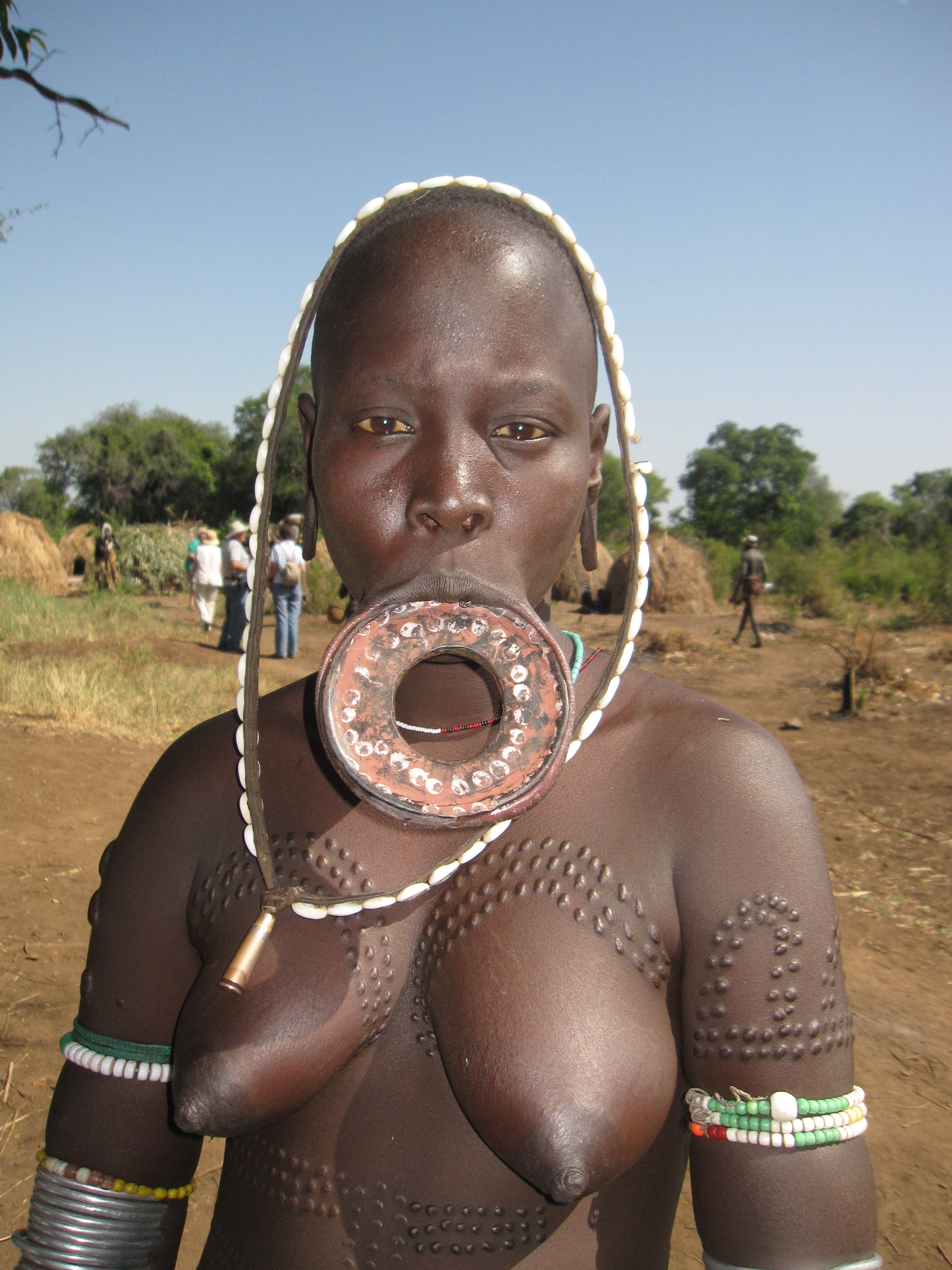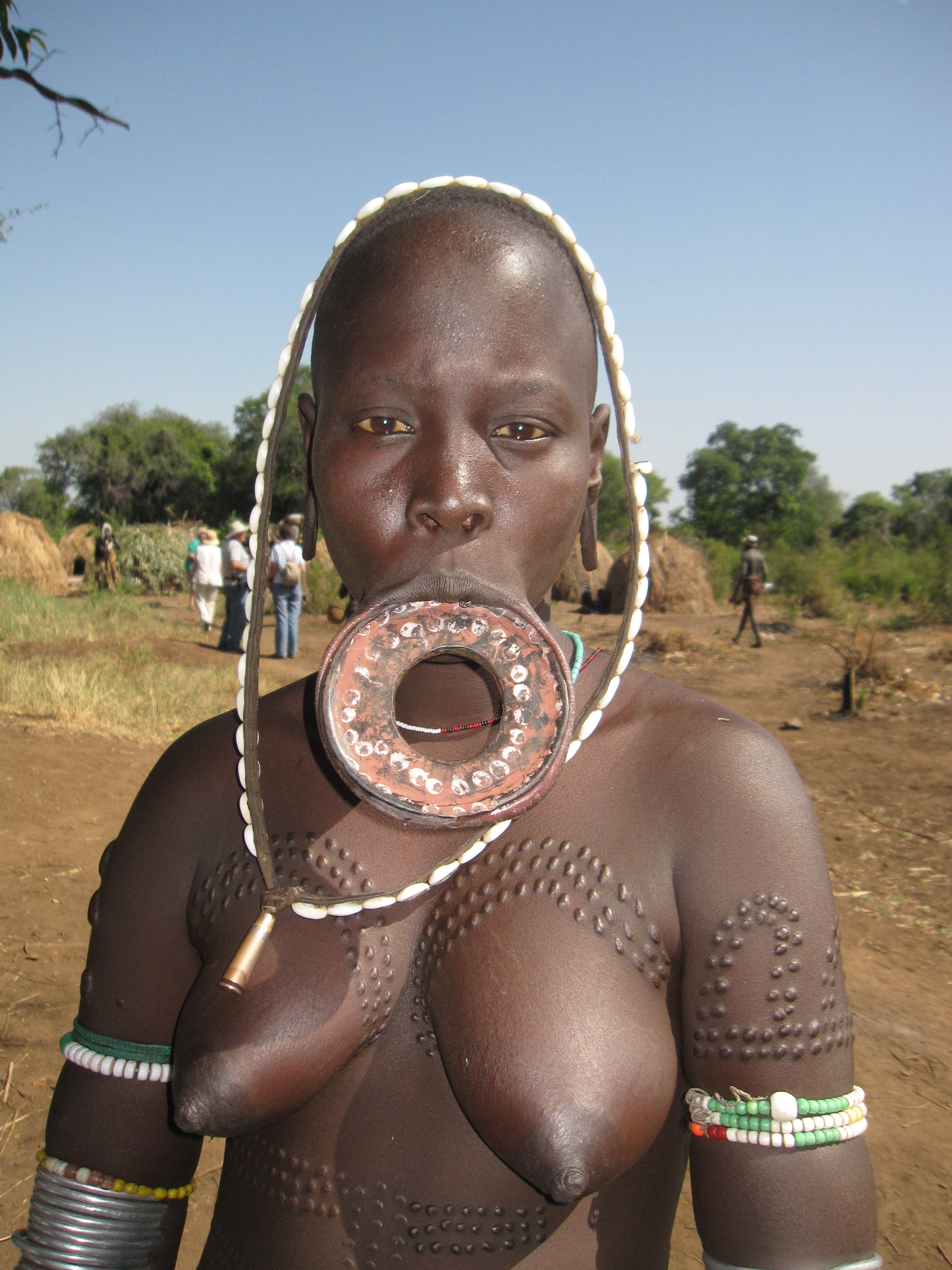 Lip plates are a symbol of beauty among the Mursi Women in the Southern Omo Valley, Ethiopia. This form of body modification was originally practiced making women less attractive to enemies so as not to become enslaved. Others believe the stretching of the lip is a sign of maturity, for young women to wed or bear children while others perceive the size of the plate as a symbol of wealth and beauty.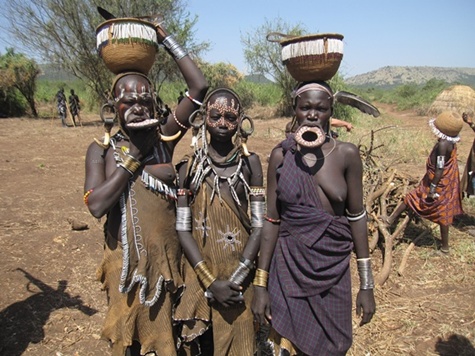 After a 20 hour flight to Addis Ababa, I arrived in my 13th African country. After one more short 1 hour flight, saving the arduous 7 ½ hour drive to Arba Minch, I arrived at the starting point to a world of fascinating culture.
The Omo Valley provided nothing less than the colorful and fascinating stories that had been shared with me. I was taken back to a primitive world of red clay braids, precise body scarring, grass skirts, huts, body adornments and lip plates.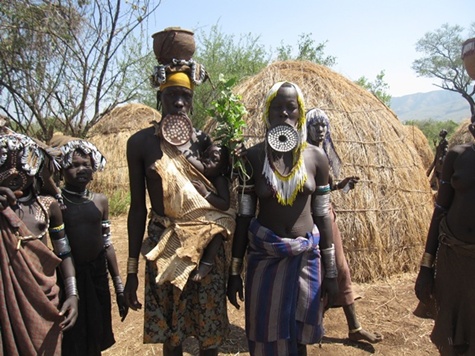 I immediately developed a wonderful rapport with my driver Mulugeta and my guide Robel. They had taken me to the village I was most excited about visiting. There were some tourists that had come to take photos and after a bit, they were gone.
The Matriarch of the village, aged by a hard working life, had kindly invited me into her hut. This was quite an honor. She had been watching closely how I interacted with her family and villagers. Tall and proud adorned with a silver watch band hanging down her forehead, I graciously accepted.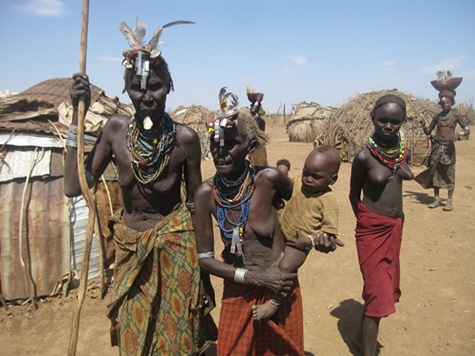 A young child lifted the flap for me to crawl into their home. With only mats inside, I sat and heard whispers from the children that followed in after me. It was cool and dark with bits of light filtering through a few open slats of straw and mud. I asked my guide if everything was ok. He explained I was sitting on part of the man's side of the hut but because I was a foreigner, it would be permitted. I knew they meant tolerated.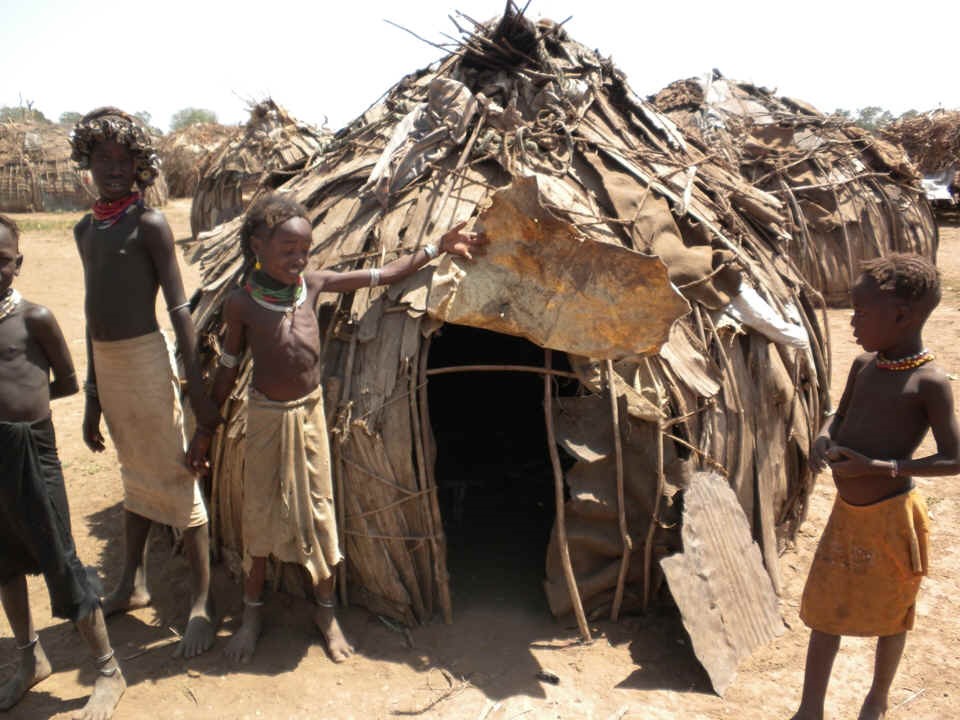 No, no I exclaimed, "I want to be respectful". So, I humbly inched over and witnessed the expressions of appreciation. Now It became a scene from I Love Lucy. Seated in a semi-circle it was English to Amharic, Amharic to local language and local language to local dialect with "Mama" straight across from me. I could only refer to my host as Mama since it would be disrespectful to ask her name and as they do not track their birthdays, it was impossible to know her age.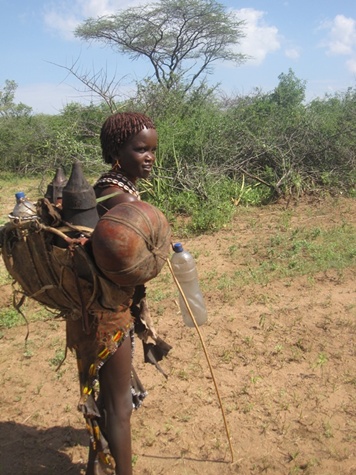 I welcomed Mama and her family to ask me anything they were interested in. The first thing they asked was if I was married. Please keep in mind I was 44. When I said no, they were so puzzled and shared looks and aahs. I did explain I was divorced and they knew what that meant. Another youngster asked me if I had any children. This is where the story becomes so memorable and awe inspiring. I yet again gave a shocking answer and explained that I did not have any children. This created quite a reaction from everyone. Then I took an extra moment to explain that I don't have children but I have a cat and I love him and he is my baby.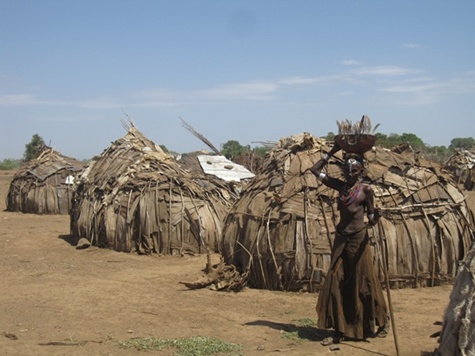 After this was interpreted along our chain of dual linguists, Mama crossed and cradled her arms in front of her swaying back and forth as if comforting a cranky infant. She held her arms just below her naked, wrinkled breasts and looked up puzzled swaying back and forth asking, "How does the cat attach to the nipple?"
It was a perfect, serious moment of realizing how literal we can be taken and how careful we have to be with our words. I could see by the look on everyone's faces, that the same question was roaming through their minds as well.
I said, using very descriptive gestures with my hands, please forgive me, I put a bowl of water on the floor for my cat to drink and I lifted my hand again in a circle and proceed with and I put a bowl of food on the floor for him to eat. I just call him by baby because I love him and I don't have kids but he is my pet.
It goes back around the circle and Mama says, "Oh, I understand. We have pets too. We have cows, goats and sheep". She then flailed her hands about as if to summon a child and one of the young girls runs out of the tent and came back in holding a tiny, darling puppy. She approached me and gently placed it in my lap for me to pet as we continued our conversation.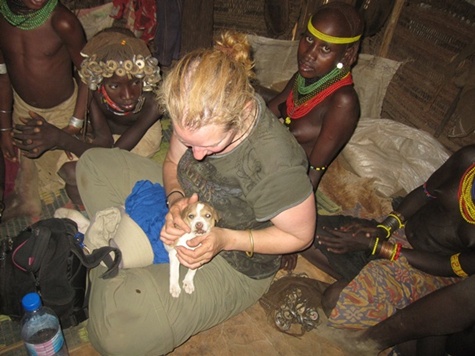 Please allow me to pause here so you can take in and experience all of the emotion I did in that moment and catch the significance of this interaction. It was a truly breathtaking and inspiring moment.
As we continued in conversation, I decided to take a risk and made mention of how hard their women work. I said we would never let our men get away with working so little leaving so much for us to do. Her answer was astounding. "Maybe one day in the future when we are more advanced like you, we will not have to work as hard".
The beauty here is her sheer intelligence and understanding of the outside world. She is aware and accepting of her life as she knows it. I believe she has dreams for her children and grandchildren that they will see a life less taxing.
The moral of this story is to travel with an open mind and curtail our judgement, criticisms and negative opinions. Instead of popping over to take a picture as a tourist, spend a few extra moments to smile, gesture and offer a warm curiosity and invite them to be curious. Conversation is the keystone to understanding and peace.
Intead of a photo, bring home a story!