Spring Adventures in Sedona
SPRING ADVENTURES IN SEDONA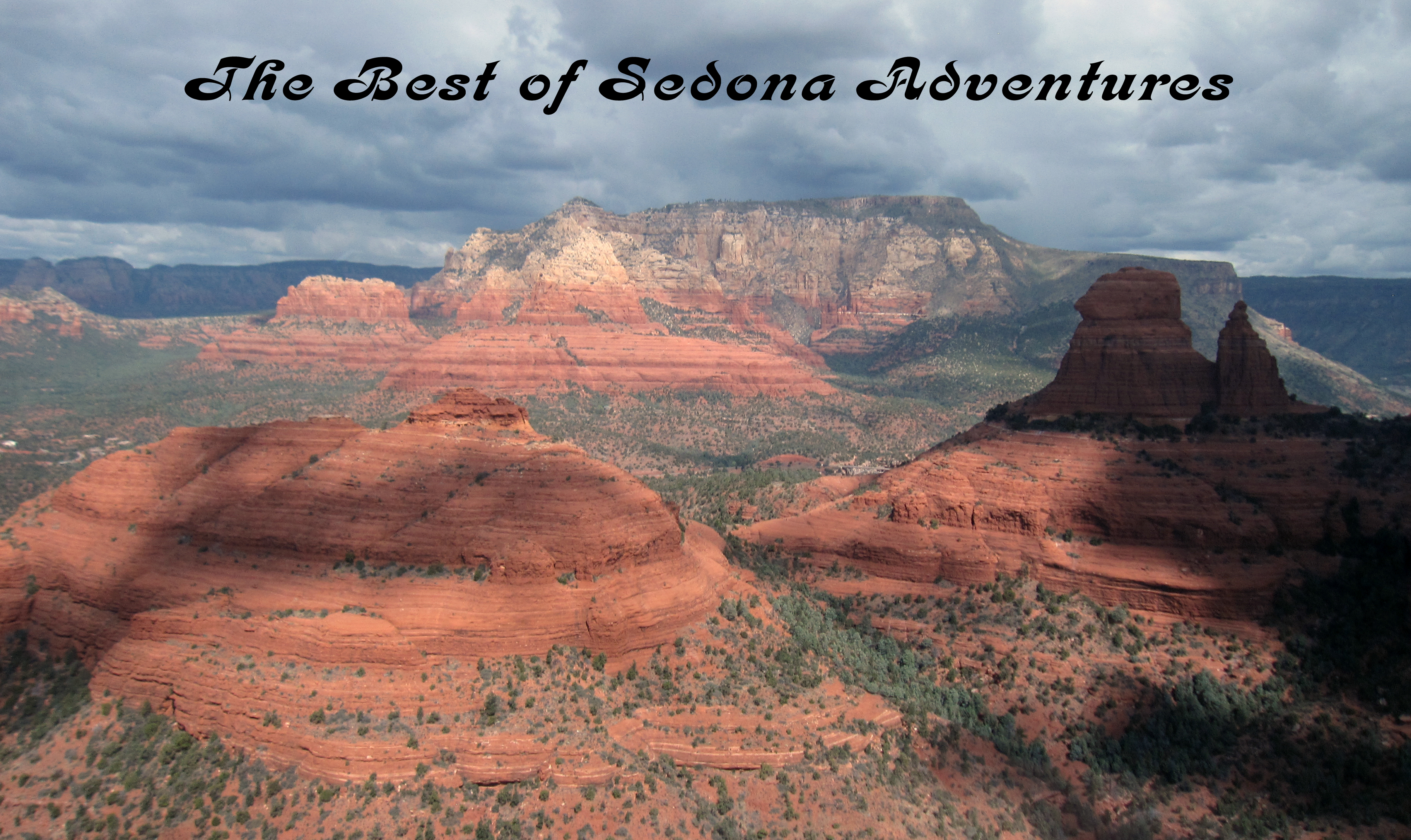 I set off for my relaxing vacation and had this vision, "Spring in Sedona". Relax among the red sandstone rock formations and sit in a jacuzzi and enjoy some downtime. The beauty of travel is the not knowing. Unforeseen opportunities that present themselves are what make a vacation an adventure, an experience not to be forgotten.
The adventurous spirit in me was drawn to countless rack cards of off-roading, bi-planes and helicopters, zip-lining, star-gazing, rock climbing, hiking, ballooning, kayaking, mountain biking, fishing, horseback riding and more. My senses awakened with excitement. I took this photo from the cockpit of the helicopter!
I

was so pleased with my stay. The East patio view of the red rocks was outstanding! Savoring an endless hot breakfast buffet enjoying the sun rising to illuminate the magnificent backdrop was awe-inspiring. The crisp, refreshing lobby lemonade was the perfect welcome after my 2 hour drive from Phoenix. The location wa

s perfect. The best backdrop, quiet and so close to town. I would certainly stay at the Sky Rock Inn of Sedona!

Seated in the cockpit with my welcoming pilot and guide, Garret, I had the greatest thrill with views of Sedona that took my breath away! The aerial view is the best way to experience the grandiosity of this Arizona town! Garret maneuvered through rocks & mountains with such grace and skill pointing out highlights like Snoopy, Cathedral and Bell rock. It felt as though we flew in slow motion, affording the time to experience the flight. I suggest that Sedona should be seen from the air and my choice would be Sedona Air Tours!

Bright Pink Jeeps are among Sedona's backdrops. The Broken Arrow/Scenic Rim Combo tour delivered adventure and beauty! Paul skillfully climbed on and over steep inclines of rocks with views only experienced from the rim. We laughed, bouncing over rock roads and held on as we descended "The Road of No Return". Next I sat quietly with a rim view that was all mine. Paul's stories of Sedona's history had us fully engaged. I will be back for Pink Jeeps Ancient Ruin/Diamondback Gulch tour.
| | | |
| --- | --- | --- |
| As I zipped past the head of a giraffe, I waived as it slowly turned its head as if to say, thanks for dropping by. This only zip line tour in Arizona afforded views of lions, tigers, bears, wolves and more. Excitement mounts when you see predators roaming about below. Our guides were conservationists and educated us on each animal between zips. I felt so safe I actually pushed off backwards from one platform. Very cool experience! | Experience an Out of Africa safari in a zebra tour bus in the middle of the Arizona Desert. Be entertained by tigers frolicking and splashing about and watch bears, hyenas, lemurs and wolves at play. Witness lions in love. This is a full day of entertainment and education. Their species list is very impressive. Camp overnight, inquire about animal adoption. Finish your day with a zip over the park. It is a full day of adventure for everyone! | Sedona offers countless trails and backdrops with amazing hikes with panoramic views of sunrise and sunset that soothe the soul. Whether a novice or experienced rock climber, there is a trail for you. Stroll along Oak Creek Canyon and explore the many powerful vortex sites that have powers to heal. Explore mazes of trails, ancient cliff dwellings with rock art and backdrops with endless photo opportunities. |
| | | |
| --- | --- | --- |
| Amitabha Stupa was one of my favorite spots in Sedona. There was a calm, spiritual aura at this vortex that inspired me. The bronze Amitabha, Buddha of Limitless Light, is filled with millions of prayers for peace. It is said that remembering or visualizing a stupa, having any kind of connection with one, will imbue you with a blessing and connect you to enlightenment. Make an offering of a coin, a flower, a personal object with meaning. The value is not of importance. To preserve this spiritual site, purchase a carved ground stone and leave your legacy at this holy place. | Evening Sky Tours took me on a star gazing tour of the Sedona night sky under a canopy of the most amazing, illuminated sky. The astronomer Charlie shared his enthusiasm and knowledge of the night sky. Chairs and blankets were provided alongside state-of-the-art telescopes and high-powered lasers, ensuring nothing would be missed. I was so excited to see such clear images of the moon and constellations. Sedona offers some of the best night sky conditions for viewing our solar system. It is a wonderful way to end the day in Sedona. | Tlaquepaque is Sedona's most popular arts and crafts village. The plazas, arches and fountains with Mexican architectural influence house over 40 fine art galleries, gift shops and restaurants. I loved the statues that filled the courtyards from Eagles to Buddhas to life size horses. There are many photo opportunities. Just outside its walls are a variety of crystal shops filled with spiritual advisors ready to do a reading. Tlaquepaque provides a unique experience among the center of the red rocks. |
| | | |
| --- | --- | --- |
| ]Red Rock BBQ – I asked locals around town for the best place to get real good old-fashioned bbq. They gave me a few suggestions, but Red Rock was on everyone's list. It is a cute, small restaurant that serves some mighty portions. I definitely could have shared my meal, although my full rack of baby backs made for a great lunch the next day! The service was great and the food did not disappoint. It was just hard to choose from their tasty menu. I will say they have the best home made croutons! | Cowboy Club was another food suggestion on everyone's must dine at list. It is definitely a big tourist spot and convenient being smack center in the middle of town and perfect for dining before and after a tour. I was looking for a hearty, good old-fashioned hamburger. It was a perfect choice and satisfied my craving before the drive back to phoenix. | Crystal Magic's colorful windows caught my eye on the way into town from Phoenix. I knew to expect a plethora of crystal shops and spiritual readers around town, but this had to be one of the greatest crystal shops that I visited. They had amazing pieces in their collection. I also loved the Magic Clothing Store right next door. Although pricey for me, they certainly had one of a kind boutique items and clothing that I would have loved to bring home with me. I had to save something for next time. |